Why choose this course?
Computer Science is a new subject in both the primary and secondary National Curriculum 2014. It replaces ICT. There is a recognised massive national shortage of secondary school Computer Science teachers. This course, BSc (Hons) Computer Science with Secondary Education (QTS), will offer an entry point into the teaching profession.
The course will give you both Computer Science knowledge at degree level and the professional qualification of Qualified Teacher Status (QTS) which will allow you to take up a teaching post within a secondary school.
Find out more about computer science here at the University of Wolverhampton from this video featuring staff and students.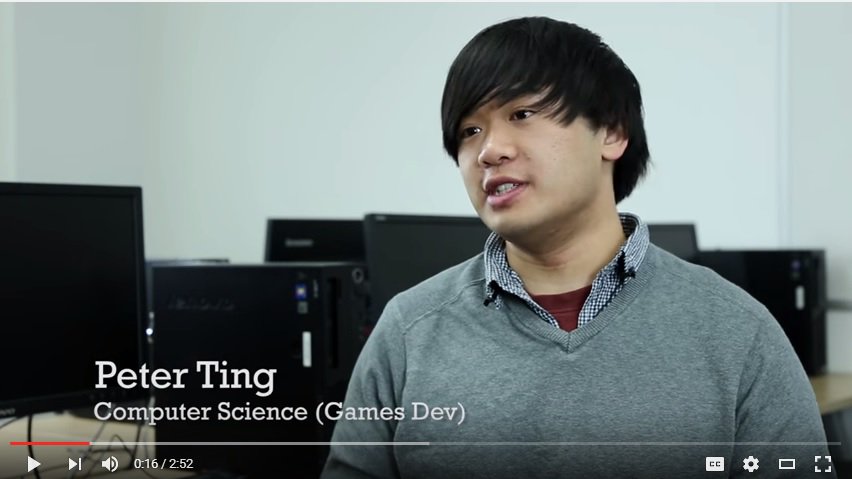 What happens on the course?
As well as providing the essentials for accreditation as a teacher, this course covers the core elements of Computer Science:
· The course covers a lot of different aspects of Computer Programming, from the basics of using the Java language, through Object-Orientation and to Systems Programming, both with the Windows and Linux systems.
· Theoretical Computer Science is introduced through studying Computation and Complexity.
· Database systems are studied so that the place and context of data in an organisation can be recognised and managed.
· By studying Digital Electronics a deeper understanding of the workings of a computer at component-level is gained and is built upon by studying Computer Architecture and Operating Systems.
· Studying Networks and Website Development gives a good foundation in distributed systems both from hardware and software perspectives.
Career path
This degree will give you both computer science knowledge at degree level and the professional qualification QTS, which will allow you to take up a teaching post within a secondary school.
This course will enable you to move up and across the management structure to gain responsibility for:
o a particular subject as head of department or subject.
o a particular age group as head of year or key stage coordinator
o a particular area such as special education needs or pastoral care (ie personal guidance)
Ultimately, you could progress within a school to a senior management position such as a deputy or assistant head and, of course, headteacher - at which point you will have overall responsibility for the management of a school and the education its pupils.
Following successful completion of this award you will be awarded an honours degree.
Who accredits this course?
This course leads to the professional qualification of QTS – Qualified Teacher Status. The University will recommend students who have demonstrated competence in the Professional Standards to the Teaching Agency – who will award QTS.
The award of QTS is essential to teach in a school in the United Kingdom and on gaining this award the student becomes a qualified teacher.
Entry requirements
2018 Entry
GCSE English and Maths grade C+/4 or above
AND
A Level minimum of AA or CCC to include Maths .
BTEC QCF Extended Diploma grade MMM, BTEC QCF Diploma grade DD
If you've got other qualifications or relevant experience, please contact The Gateway for further advice before applying.
International entry requirements and application guidance can be found here
Pre-entry Professional Skills Tests
Applicants for initial teacher training (ITT) courses which begin in 2013/14 and beyond are required to have passed the skills tests before the start of the course, Further information is available via the following link:
http://www.education.gov.uk/sta/professional/b00211200/registration
You will not be eligible to register and take the tests until after you have submitted an application for an ITT programme.
An offer of a place will not be made until you have attended a formal interview. Those successful in the audits and at interview will be subsequently required to meet enhanced DBS checks, fitness to teach, medical check and prohibition order check requirements
If you have accepted a Conditional Offer made by the University of Wolverhampton you will receive correspondence asking you to complete an enhanced Disclosure and Barring Service (DBS) check. The charge for this will be a DBS fee of £44.00 and a £6.00 ID check service fee. You will also need an Occupational Health Check and a prohibition check prior to starting the course.
All applicants must meet the NCTL requirements for Initial Teacher Training.
Those who do not meet the entry requirements may be offered an alternative course.
Course fees and finance
2015/6 fees for this course have not yet been agreed. Please contact for further information.
The University also offers a range of Bursaries and Scholarships in addition to other financial support packages
These fees are applicable for new entrants in 2017/8. If you have any queries regarding the fees listed please contact
These fees are for the current academic year only. Any subsequent years may be subject to an annual increase, usually in line with inflation.
Contact us