Why choose this course?
Pharmaceutical Science is a relatively new discipline and is concerned with fostering a multi-disciplinary approach towards the study of exciting new developments in the chemical, biological and biomedical science areas focusing upon the biochemistry, pharmacology, design, methods of analysis and delivery of pharmaceutical substances. This course aims to produce high quality pharmaceutical science diplomates with the generic, subject-specific and transferable knowledge and skills suited to a career in the pharmaceutical industry or other related laboratory based scientific discipline.
The Course aims to:
To support you in the development of intellectual and key interpersonal skills as well as subject knowledge that will equip you for life-long learning.
To develop a knowledge of the physico-chemical and biological principles necessary to understand the sourcing, preparation, analysis and properties of medicinal agents. This will include the design, delivery, mode of action, therapeutic application and clinical usage of medicines.
To encourage the development of practical and problem solving skills, research methods and the techniques and processes necessary for the evaluation, critical appraisal and systematic review of pharmaceutical science.
Watch our video featuring Pharmaceutical Science staff and students.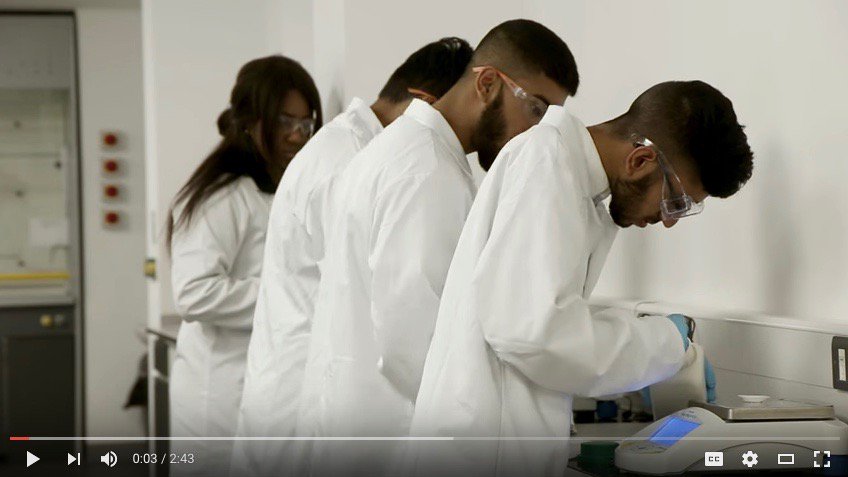 What happens on the course?
The emphasis throughout the course will be on the applied nature of the study of the pharmaceutical sciences in terms of how fundamental knowledge can be applied to tangible vocational situations and problems, together with the acquisition of practical and generic skills.
The intention of this approach will be to prepare students for their chosen career in any of the varied career options made available.
To achieve this the award is structured to enable challenges to apply information effectively, to work in teams, to gain actual industrial experience, to learn from the experiences of professionals, to acquire technical competence and to develop generic and time management skills.
Why Wolverhampton?
Study in our state of the art Rosalind Franklin Science Building
Career path
The pharmaceutical and biotechnology sectors are currently growth areas in the UK and successful study in pharmaceutical science will open up a range of careers in biochemical, medical, pharmaceutical, chemical and related areas. Specifically, graduates are likely to find employment in research and development in the pharmaceutical and medical sectors. Other career outlets are possible and include work in hospital laboratories, forensic science, drug analysis, pharmaceutical marketing and sales, medical writing and teaching.
HND qualifications are widely recognised in the scientific establishment as vocational courses which prepare students for vocational employment. As such, the skills provided in the course will provide opportunities in the technical disciplines at technician level.
This course is designed to articulate and progress seamlessly to the appropriate BSc (Hons) degree.
What skills will you gain?
At the end of this course you, the student, will be able to:
Apply a range of practical skills to the investigation of pharmaceutical compounds and understand their effects on the human body.
Design, implement and evaluate practical outcomes in pharmaceutical science
Discuss and interpret modern concepts of disease
Discuss and evaluate appropriate methodologies for the manufacture of pharmaceutical processes.
Entry requirements
2018 Entry
A-Level minimum of C or EE to include Chemistry.

Access to Higher Education Diploma with 60 credits, 45 Level 3 credits of which 18 must be in Science and achieved with a minimum pass

BTEC QCF Level 3 Diploma Applied Science with minimum PP.

Applicants will normally be expected to hold GCSE English and Maths at grade C+/4 or equivalent
If you've got other qualifications or relevant experience, please contact The Gateway for further advice before applying.
International entry requirements and application guidance can be found here
Those who do not meet the entry requirements may be offered an alternative course
Course fees and finance
The University also offers a range of Bursaries and Scholarships in addition to other financial support packages
These fees are applicable for new entrants in 2018/9. If you have any queries regarding the fees listed please contact
These fees are for the current academic year only. Any subsequent years may be subject to an annual increase, usually in line with inflation.
Contact us