Why choose this course?
Protection of public health is the key principle underpinning the work of Environmental Health Practitioners (EHP) whether that is investigating a food poisoning outbreak or accident at work, through to noise problems, housing issues and contamination of the environment.
The course will:
Develop multidisciplinary knowledge and understanding of the vital and complex areas of environmental health.
Provide practically-based experiences to develop the personal and professional knowledge and skills to allow graduates to become Environmental Health practitioners
This is a practice – based course with the integration of practical case studies, visits and real life examples throughout the course through to develop the ability to make informed decisions, within the legislative framework to protect health and promote well-being.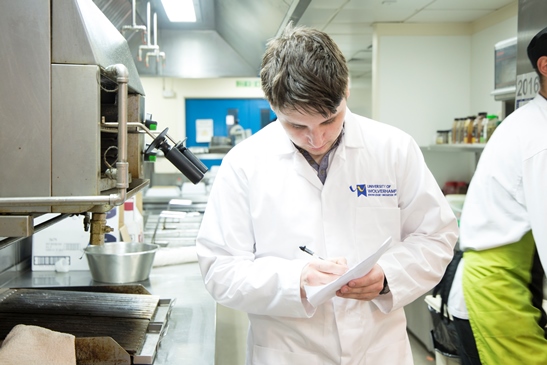 Students carrying out routine food hygiene inspection in a large catering kitchen.
What happens on the course?
Year 1
Through a variety of learning activities, year 1 provides an exciting introduction to the broad scope of environmental health including human health, natural environment and public health. You will also develop key skills for effective study throughout your course such as IT, laboratory and field work and report writing skills.
Year 2
You will focus on law and practice in food safety, health and safety, housing and environmental protection. Using case studies and scenarios you will learn about enforcement and criminal investigation techniques. Field trips and site visits will help to transform students into Environmental Health Practitioners.
Placement Year
There is an optional but strongly recommended placement year to develop practical skills, professional competence and may involve working in local authorities and/or the private sector.
Final year
You will develop a multi-disciplinary approach required for environmental health practice through case studies, complex investigation and inspection of premises. During this year you have the opportunity to undertake an independent research project in an area of interest.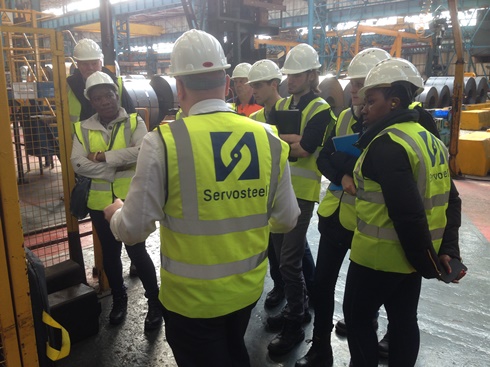 Field trips to study health and safety risk management at a large steel stockholders. Field trips play an important role in providing students with practical experience to enhance employability.
Why Wolverhampton?
If you are looking for a rewarding career, which offers a broad spectrum of work ranging from food safety to environmental protection and which enables you to improve the quality of life for many people, then this course is for you.
This award provides training accredited by the Chartered Institute of Environmental Health and reflects the role of the Environmental Health Practitioner (EHP) in protecting the public's health and improving our general quality of life.
Our academic staff is comprised of experienced teachers, researchers and practitioners who are enthusiastic about the Environmental Health profession
This is practice based course with a variety of visits (e.g. local power stations, local authority departments, landfill sites, incinerator sites and sewage treatment plant) and there are also opportunities for overseas field trips.
Excellent links with EHP in local authorities and private sector
Excellent facilities to support your studies including the final year research project.
Lecture material and a wealth of other vital learning resources are available on line
Each student is allocated a personal tutor and learning support is offered in many different forms and our student support has been highly praised by both external and University assessors.
Career path
The course is the first stage in becoming an Environmental Health Practitioner (EHP). As an EHP you will be able to pursue a career in disciplines such as food safety, housing standards, health and safety, environmental protection and public health within local authorities or in the private sector (food industry, retail, consultancy, air and travel industry).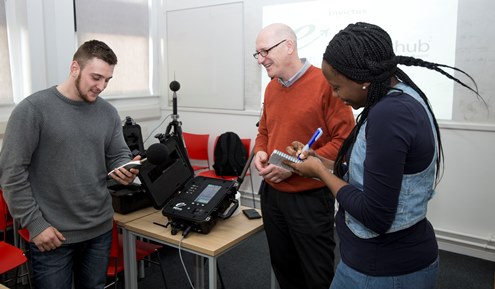 Students gaining hands on experience using sophisticated envionmental noise monitoring equipment.
What skills will you gain?
At the end of this course you will be able to:
Critically analyse the implications of biological, chemical, physical, social and psychosocial stressors on human health in relation to food safety, health and safety, housing, environmental protection and public health
Apply the legislative framework related to environmental health.
Collect, critically appraise data and information to make informed decisions and formulate appropriate solutions.
Demonstrate cognitive and communication skills in relation to the application of knowledge and judgment to identify and make effective interventions to protect public health.
Develop personal and professional development skills through engagement with self-managed and reflective learning.
Who accredits this course?
The course is accredited by the Chartered Institute of Environmental Health (CIEH) and the first stage in becoming a registered Environmental Health Practitioner. To obtain registration, students must complete an Experiential Learning Portfolio and complete professional assessments.
Entry requirements
2016 Entry
Applicants should hold 5 GCSEs of which English, Maths and a Science must be at grade C or equivalent
Plus either
200 UCAS points from at least two subjects at A2 level to include one science subject.
For applicants studying an Access to Higher Education Diploma in Science you must pass 60 credits, at least 45 of which are at Level 3, of which 18 Level 3 credits must be in Science at 'merit' or 'distinction' credits
If you've got other qualifications or relevant experience, please contact The Gateway for further advice before applying.
International student language requirements and application guidance can be found at http://www.wlv.ac.uk/international/apply
Successful completion of the foundation year of our BSc (Hons) Science and Engineering with Foundation Year guarantees entry on to this course
Successful completion of the International Foundation Year in Science and Engineering guarantees entry on to this course
Other Requirements
Students must have studied a minimum of two years post GCSE level. However, it is expected that some applicants will be mature students with work experience, who wish to further their career development. These applicants will be processed through standard procedures, which may involve an interview as part of the process. Please see http://wlv.ac.uk/mature for further information.
Those who do not meet the entry requirements may be offered an alternative course
Course fees and finance
The University also offers a range of Bursaries and Scholarships in addition to other financial support packages
These fees are applicable for new entrants in 2016/7. If you have any queries regarding the fees listed please contact 01902 321137
These fees are for the current academic year only. Any subsequent years may be subject to an annual increase, usually in line with inflation.
# Undergraduate part-time fees for 50% rate of study
Contact us