Why choose this course?
The course is accredited by the Chartered Institute of Environmental Health (CIEH) and the first stage in becoming a registered Environmental Health Practitioner.
Protection of public health is the key principle underpinning the work of Environmental Health Practitioners (EHP) whether that is investigating a food poisoning outbreak or accident at work, through to noise problems, housing issues and contamination of the environment.
The course will:
Develop multidisciplinary knowledge and understanding of the vital and complex areas of environmental health.
Provide practically-based experiences to develop the personal and professional knowledge and skills to allow graduates to become Environmental Health practitioners
This is a practice – based course with the integration of practical case studies, visits and real life examples throughout the course through to develop the ability to make informed decisions, within the legislative framework to protect health and promote well-being.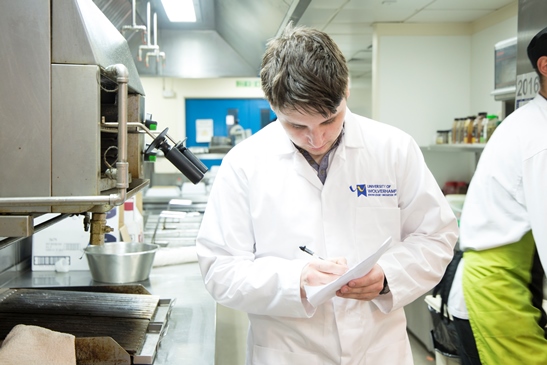 Students carrying out routine food hygiene inspection in a large catering kitchen.
Find out more about our Environmental Health course in the below video featuring our staff and students.
What happens on the course?
Year 1
Through a variety of learning activities, year 1 provides an exciting introduction to the broad scope of environmental health including human health, natural environment and public health. You will also develop key skills for effective study throughout your course such as IT, laboratory and field work and report writing skills.
Students inspecting food traders at Bearded Theory music festival
Year 2
You will focus on law and practice in food safety, health and safety, housing and environmental protection. Using case studies and scenarios you will learn about enforcement and criminal investigation techniques. Field trips and site visits will help to transform students into Environmental Health Practitioners.
Placement Year
There is an optional but strongly recommended placement year to develop practical skills, professional competence and may involve working in local authorities and/or the private sector.
Final year
You will develop a multi-disciplinary approach required for environmental health practice through case studies, complex investigation and inspection of premises. During this year you have the opportunity to undertake an independent research project in an area of interest.
Why Wolverhampton?
Environmental health - a gateway to a global career!
This course is focussed on employability. Students gain academic, practical and professional skills with 85% of students either in work or studying six months after graduating. Graduates go on to become Chartered Environmental Health Practitioners working in either the public or private sectors both in the UK and overseas. This role is incredibly varied and includes:-
Inspecting food businesses
Investigating complex work related accidents
Protecting the public from industrial noise, contaminated land and tackling poor air quality
Ensuring the safety of rented houses
Investigating outbreaks of disease and food poisoning
Gathering evidence and preparing cases for court
To enter this profession you have to study a course accredited by the Chartered Institute of Environmental Health and we are the only accredited undergraduate course in the Midlands currently offering places.
This is a practice based course with a variety of visits including:-
Inspecting food traders at music festivals
Harrods/Waitrose/Marks and Spencer
Construction sites
Carrying out mock trials/interviews under caution
You will learn many professional skills e.g. how to Investigate and gather evidence; draft reports; interpret and apply the law.
Lecturing staff include highly respected and experienced practitioners teaching contemporary issues giving you the best start to your career.
Hear why our students choose Wolverhampton
We are currently developing the Springfield Campus which will be Europe's largest construction centre of excellence. Join us as the exciting development takes shape and from 2019/20 students in the School of Architecture and the Built environment will be taught from the new campus.
Find out more about Springfield Campus.
Career path
The course is the first stage in becoming an Environmental Health Practitioner (EHP). As an EHP you will be able to pursue a career in areas such as food safety, housing, health and safety, environmental protection and public health within local authorities or in the private sector (food industry, retail, consultancy, government organisations and travel industry). Typically you could enjoy a varied career as a Chartered Environmental Health Practitioner working in one of over 400 local authorities although there are many other career options including:-
Health and safety consultant/manager
Food safety manager/auditor
Food and safety manager/auditor working for travel companies in the UK and overseas
Health Protection Practitioner for Public Health England
Legal Trading Manager
Noise and acoustics
Policy advisor
You can earn:-
Environmental Health Practitioner £29,000 - £46,000
Food/health and safety consultant/manager £25,000 - £60,000
Trading Law Manager £50,000-£60,000
Students gaining hands-on experience using sophisticated environmental noise monitoring equipment.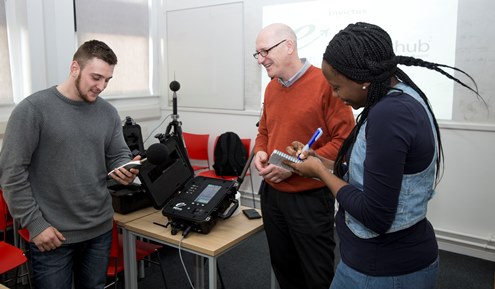 Watch our video above featuring a recent graduate and why employers choose our graduates.
What skills will you gain?
At the end of this course you will be able to:
Critically analyse the implications of biological, chemical, physical, social and psychosocial stressors on human health in relation to food safety, health and safety, housing, environmental protection and public health
Apply the legislative framework related to environmental health.
Collect, critically appraise data and information to make informed decisions and formulate appropriate solutions.
Demonstrate cognitive and communication skills in relation to the application of knowledge and judgment to identify and make effective interventions to protect public health.
Develop personal and professional development skills through engagement with self-managed and reflective learning.
Who accredits this course?
The course is accredited by the Chartered Institute of Environmental Health (CIEH) and the first stage in becoming a registered Environmental Health Practitioner. To obtain registration, students must complete an Experiential Learning Portfolio and complete professional assessments.
Entry requirements
2018 Entry
GCSE English and Maths at grade C+/4 or equivalent.
Plus either
Other Requirements
Students must have studied a minimum of two years post GCSE level. However, it is expected that some applicants will be mature students with work experience, who wish to further their career development. These applicants will be processed through standard procedures, which may involve an interview as part of the process. Please see http://wlv.ac.uk/mature for further information.
Those who do not meet the entry requirements may be offered an alternative course
Course fees and finance
The University also offers a range of Bursaries and Scholarships in addition to other financial support packages
These fees are applicable for new entrants in 2018/9. If you have any queries regarding the fees listed please contact
These fees are for the current academic year only. Any subsequent years may be subject to an annual increase, usually in line with inflation.
# Undergraduate part-time fees for 50% rate of study
Contact us