Why choose this course?
This course investigates the technologies behind games development including hardware (consoles, input devices) and software games engines. It also covers the mathematics and physics required to create believable agents, non-player characters (NPCs) and virtual worlds inside a computer game.
This equips you to play a valuable role as part of a games development team in the games industry, and enables you to develop your own ideas into a marketable product.
The course has the same foundations and principles of our main Computer Science Award, integrating computer language tools, techniques and methodologies. Additionally we will prepare you with the key skills needed to keep abreast of future developments.
Find out more about our computer science courses in the below video featuring staff and students.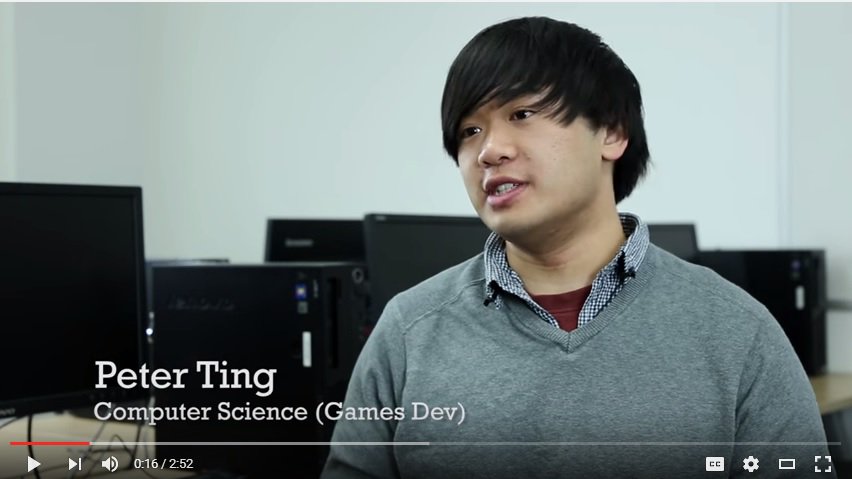 What happens on the course?
Our course combines the core subjects of computer science with the opportunity to develop additional skills in the area of games development.
Programming is an essential requirement for all computer scientists and games developers, and you will be developing your skills in this area throughout your course. You will begin with the fundamentals of programming and problem solving, and build on this through subjects such as object oriented analysis, design and programming, software development and systems programming. In addition to your games development studies, you will also learn about computer graphics and artificial intelligence. In your final year, your studies will culminate in the development of a computer games related project.
You will also engage in studies focused on developing your academic and employability skills and you will be offered the opportunity to undertake a placement year where you gain invaluable experience in the workplace before returning to complete your final year. Many students have found this to be a real asset when it comes to finding a job after graduation.
Why Wolverhampton?
In 2009, a team of our students won a Britsh Academy of Film and Television Arts (BAFTA) award after winning a national competition Dare to be Digital, a video games development contest organised with Channel 4.
We have a dedicated computer games laboratory for use exclusively for games development specialists, as part of our iconic IT complex, together with an emerging Technologies Lab.
The department organises the leading international conference on Computer Games Development CGAMES and is publisher of the International Journal of Intelligent Games & Simulation.
Career path
Graduates from this course can expect to open up a career in the games industry such as games programmer/developer. In addition, you could become a programmer, system developer or technician.
Successful completion of the course will also allow you to continue your studies at postgraduate level.
What skills will you gain?
This course will enable you to master the essential facts, concepts, principles, theories and practices of computer science.
You will develop expertise in the design, implementation and evaluation of software systems accross a variety of platforms, tasks and environments.
You will also be able to demonstrate an understanding of the structure of a computer game, specifically regarding the software development process and relevant computational aspects.
Your studies will enable you to combine technical understanding with relevant methodologies to build and test a computer game.
At the end of this course, you will be able to gather, analyse and interpret information from a range of sources and to devise solutions to problems based on evidence, which you will be able to implement and evaluate. You will develop the skills you need to effectively communicate your findings and to work both independently and as part of a team.
Our course will prepare you to apply the personal, organisational and professional skills, necessary for self-learning, that are essential for continuing professional development within the worldwide Computing Industry.
Who accredits this course?
Accredited by the British Computer Society – The Chartered Institute for IT, for CITP and partial CEng
Entry requirements
2018 Entry
A Level minimum of AB or CCD.
BTEC QCF Extended Diploma grade MMM, BTEC QCF Diploma grade DD
Access to HE Diploma full award (Pass of 60 credits - of which a minimum of 45 credits must be at level 3 including 18 at Merit or Distinction).
Applicants will normally be expected to hold GCSE English and Maths at grade C+/4 or equivalent
If you've got other qualifications or relevant experience, please contact The Gateway for further advice before applying.
International entry requirements and application guidance can be found here
Successful completion of the International Foundation Year in Science and Engineering guarantees entry on to this course
Other Requirements
Students must have studied a minimum of two years post GCSE level. However, it is expected that some applicants will be mature students with work experience, who wish to further their career development. These applicants will be processed through standard procedures, which may involve an interview as part of the process. Please see http://wlv.ac.uk/mature for further information.
Those who do not meet the entry requirements may be offered an alternative course.
Course fees and finance
The University also offers a range of Bursaries and Scholarships in addition to other financial support packages
These fees are applicable for new entrants in 2018/9. If you have any queries regarding the fees listed please contact
These fees are for the current academic year only. Any subsequent years may be subject to an annual increase, usually in line with inflation.
# Undergraduate part-time fees for 50% rate of study
Contact us