Why choose this course?
The overarching course related aim:
Pharmaceutical Science is a relatively new discipline and is concerned with fostering a multi-disciplinary approach towards the study of exciting new developments in the chemical, biological and biomedical science areas focusing upon the biochemistry, pharmacology, design, methods of analysis and delivery of pharmaceutical substances. The course aims to produce high quality pharmaceutical science graduates with the generic, subject-specific and transferable knowledge and skills suited to a career in the pharmaceutical industry or other related laboratory based scientific discipline.
The Course aims to:
To support students in the development of intellectual and key interpersonal skills as well as subject knowledge that will equip them for life-long learning.
To develop a knowledge of the physico-chemical and biological principles necessary to understand the sourcing, preparation, analysis and properties of medicinal agents. This will include the design, delivery, mode of action, therapeutic application and clinical usage of medicines.
To encourage the development of practical and problem solving skills, research methods and the techniques and processes necessary for the evaluation, critical appraisal and systematic review of pharmaceutical science.
Watch our video featuring Pharmaceutical Science staff and students.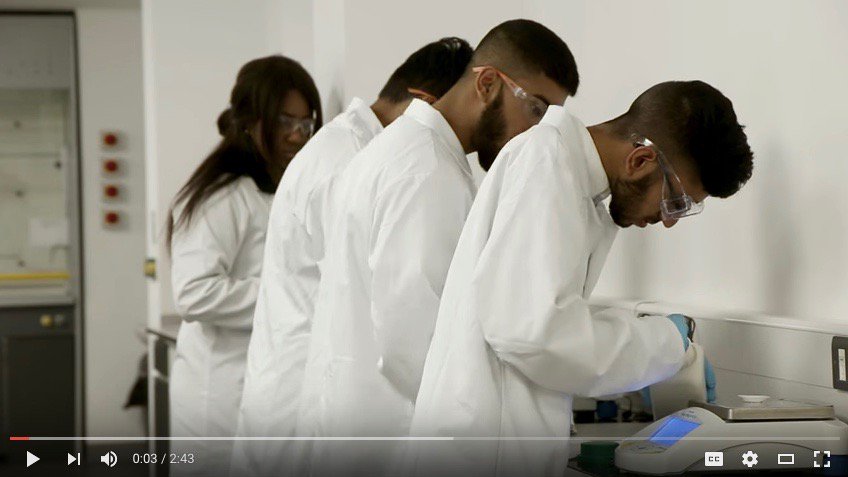 What happens on the course?
Year 1 covers key topics such as infection and immunity, physicochemical science and pharmaceutical chemistry. It considers human health, physiology, and disease prevention and treatment. It looks at the molecular basis of disease and introduces you to a diversity of microorganisms, including bacteria, algae, protozoa, fungi and the viruses. In addition, you will begin the process of developing your transferable skills.
Year 2 explores basic principles of drug development and considers practical applications of biochemistry and pharmacology. It looks at the role of pathogens and metabolic processes in the development of disease and identifies targets for drugs in the search for therapeutic agents. It also examines the relationship between protein structure and function and investigates spectroscopic methods of analysis as tools in drug design and development.
Students are encouraged to undertake an industrial placement in the third year. Students can also progress directly to the final year which covers the principles of drug design and development that can achieve a therapeutic effect with minimal adverse reaction. It explores the diversity and complexity of membrane structure and function, looks at laboratory management and gives you the chance to undertake a research project of your choice.
Why Wolverhampton?
Pharmaceutical science is well established at Wolverhampton and benefits from a long tradition of teaching and research in the chemical and biological sciences. This course gives students an excellent opportunity to study core science as well as the modern developments that are occurring at the boundaries between biology, chemistry and clinical practice.
The course has its own distinct identity, but also draws on expertise from other successful areas within the University, especially Pharmacy and Pharmacology. An increasing amount of course material is delivered electronically at a time that best suits the indivudual student, but more traditional teaching methods, in particular laboratory-based work, play a key part.
Students are encouraged to consider an industrial placement in their third year.
Career path
Career opportunities exist with a wide range of organisations many of whom employ pharmaceutical scientists in both in the UK and further afield:
Drug companies need pharmaceutical scientists to evaluate new drugs and contribute to the development of new products.
Smaller chemical companies that make intermediates for the drug industry sometimes employ graduates with the necessary analytical skills and understanding of the drug development process.
Sales teams for the major Pharma companies employ graduates to advise customers on the more technical aspects of their products.
Opportunities exist in areas outside of the pharmaceutical industry, for example in science teaching and professions such as accountancy.
Many graduates go on to research-focused careers and study at universities and research institutes.
What skills will you gain?
At the end of this course you, the student, will be able to:
1. Apply a range of graduate skills to investigation in pharmaceutical science
2. Design, implement and critically evaluate research in pharmaceutical science
3. Critically evaluate modern concepts of disease and the contribution of new technologies to the treatment of disease
4. Design and implement appropriate strategies for the manufacture and quality control of pharmaceutical dosage forms
Who accredits this course?
Individual students are eligible to apply for Associate Membership of the Royal Society of Chemistry on completion of this program with an upper second or first class degree.
Entry requirements
2018 Entry
A-Level minimum BB or CDD to include Chemistry at grade C
Achieve Access to HE with 60 credits, 45 level 3 credits, of which 18 will be passed with minimum Merit and include Maths, Chemistry and Biology.
BTEC QCF Level 3 Extended Diploma Applied Science with minimum MMP.
Applicants will normally be expected to hold GCSE English and Maths at grade C+/4 or equivalent
If you've got other qualifications or relevant experience, please contact The Gateway for further advice before applying.
International entry requirements and application guidance can be found here
Successful completion of the International Foundation Year in Science and Engineering guarantees entry on to this course
Those who do not meet the entry requirements may be offered an alternative course.
Course fees and finance
2015/6 fees for this course have not yet been agreed. Please contact 01902 323403 for further information.
The University also offers a range of Bursaries and Scholarships in addition to other financial support packages
These fees are applicable for new entrants in 2018/9. If you have any queries regarding the fees listed please contact 01902 323403
These fees are for the current academic year only. Any subsequent years may be subject to an annual increase, usually in line with inflation.
Contact us